What Are Giant Mealworms?
Giant mealworms are larger than super worms in size. They grow slightly plumper and significantly longer than regular mealworms, and it makes them an ideal choice for larger reptiles. Moreover, you can use them as an effective bait option for the panfish.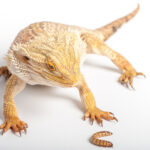 Why You Should Substitute Giant Mealworms for Superworms
The protein level in Giant mealworm is 20.27%, whereas the protein level is only 17.4% in Superworms. Moreover, the level of fat and fiber is 13% and 1.73%, respectively. However, we have added some reasons of why one should substitute Giant Mealworms for Superworms. So, don't miss to go through the following points:
Can Be Easily Stored in Refrigerator: 

If we talk about Superworm, you cannot refrigerate them. But, on the other side, Giant Mealworms are like regular mealworms, and therefore, you can easily store them in the fridge. However, we will recommend you keep them in the lower part of your refrigerator as it is the warmest part, and it will be the ideal temperature for them.
Completely Harmless:

 Super worms can sting and bite your pet, and on the other side, Giant mealworms are completely harmless to your pet.
Meat Percentage Is on Higher Side:

 If we compare Giant mealworms with Superworms, you will get to know that Superworm has more chitin whereas Giant mealworm has more meat.
Easily Digestible:

 Giant mealworms consist of less chitin, and the level of protein is on the higher side. It makes them more digestible. Well, in such a scenario, Superworm is also suitable. But, if you want a change in the diet of your pet, giant mealworms will be perfect for you.
Longer Life:

 You cannot keep Superworms as long as Giant Mealworms. If lifespan matters for you, Giant mealworms must be an ideal choice for you. If you keep them in the fridge, it can last for even several weeks. However, they need to be fed so that they can thrive properly.
So, this is all about Giant mealworms, and we hope that you have understood why it is far better than Super Worms. In addition to this, we recommend you to serve Giant mealworms with carrots and mineral supplements for extra nutrition.